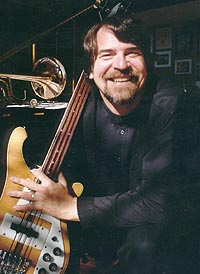 Christopher Brubeck
"Brubeck's new album is a major musical event - Brubeck and Crofut are two of the most inventive pioneers in this melting pot of orchestral music and multi-genre American popular music." The Stamford Advocate
The third son in the musical Brubeck family, Chris is a composer, Iyricist, orchestral arranger, musical educator, and performer who plays four instruments. He enjoys a very active and diverse career feeling at home playing Jazz, Rock, Folk, Funk and Classical Music.
The Koch International recording "Bach to Brubeck" featuring Chris, Bill Crofut & Joel Brown as soloists with The London Symphony Orchestra is the newest reflection of Chris' multiple talents.
Recorded at the famous Abbey Road Studios in London, "Bach to Brubeck" is the culmination of years of successful orchestral concerts given by Crofut, Brubeck & Brown throughout the United States. Bill Crofut was an innovative banjo player, singer and pioneering "crossover artist" who made many wonderful recordings. Chris Brubeck and Bill were friends and musical collaborators since Chris' early teens and especially in the last decade, they made some highly regarded recordings together. Bill & Chris produced "Across Your Dreams" (Telarc) with Frederica Von Stade singing many of Chris' original songs. After hearing that beautiful CD Dawn Upshaw invited Crofut, Brubcck & Brown to join her in making her Carnegie Hall debut. That same constellation later performed a national BBC live radio concert, broadcast throughout England. The tour culminated with a sold out performance in London's Barbican Theater. A few songs from that tour will be featured on Crofut's final project "Dance on a Moonbeam" which Telarc released in July of 2000. Chris & Suzy Crofut (Bill's wife) spent much of 1999 doing the post production on this last recording. Crofut, Brubeck & Brown who previously released "Unsquare Dance" (their first studio recording) and "Red, White & Blues" a live concert recording from Goshen College for Albany Records performed for a last time together on "Dance on a Moonbeam." Guitarist Joel Brown, and Chris Brubeck continue their eclectic fusion of jazz, folk, & blues with the addition of harmonica virtuoso Peter "Madcat" Ruth. This new group, collectively known as "Triple Play" expand on the Crofut tradition of breaking down the walls of musical classification, performing with Orchestras and on College Campuses throughout North America.
Chris' versatility and unique family background guarantees his continued involvement in the Jazz world. Wearing so many musical hats often results in a challenging, demanding, and rewarding schedule. Chris co-leads The Brubeck Brothers Quartet along with Dan Brubeck, who besides being Chris younger brother, is a fantastic drummer whose solos have electrified audiences all over the world. The Brubeck Brothers Quartet perform at concert halls, colleges, and festivals throughout the U.S. and Canada.