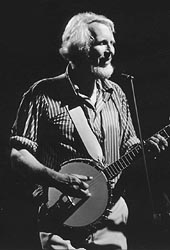 About Bill Crofut Given the way in which he shared his musical talents when he was alive, it seems only natural that Bill Crofut's generosity should continue to have an impact after his death.

"Dance on a Moonbeam" is a CD for both children and adults that fulfills a final vision of Crofut's life - to make a recording with some of the many artists he worked with during a long and illustrious career as a singer and banjo player, and to use the profits from the sale of that recording to help support children's causes.

The project was first conceived in 1997, though it wasn't until October of the following year that Bill Crofut and his wife Susan established the Simple Gifts for Children Fund at the Berkshire Taconic Community Foundation (BTCF) in Western Massachusetts.

Ironically, that October was also when Bill was diagnosed with esophageal cancer. Determined to finish work on the CD, he held a final recording session at home just days before his death in, January 1999.

"Bill had absolutely conceived this project from the beginning as a charitable venture," Susan Crofut says. "All the artists on the CD contributed their work so that all the royalties could flow back into the Simple Gifts Fund."

With a folk and classical career spanning almost half a century, Bill Crofut started his musical life playing the French horn. But when he heard Pete Seeger at a college concert, Susan recalls fondly, "he was completely smitten. He helped Pete build his house in exchange for banjo lessons and was just completely taken over. It became his passion."

While in the Army in Korea, and later, courtesy of a cultural exchange grant inspired by his work in Japan, Bill toured the world performing and teaching. He returned to the US during the folk boom of the 1960s, and started a successful concert and recording career with his then-partner, Steve Addiss.

"Gradually," says Susan, "the classical part of Bill wanted to be expressed, although playing the banjo wasn't necessarily the most expected vehicle for this. He was very much a pathbreaker in classical banjo," she adds proudly. "He used a mute to give his banjo a wonderful harpsichord-like sound."

Bill began performing with British baritone Benjamin Luxon, recording "Simple Gifts" (Omega Records), a comparison of English and American songs. "This brought them into working with orchestras," Susan Crofut explains. Intrigued by Crofut's new work, Julianne Baird, a singer of Renaissance and Baroque music, made a CD with him called "Lullabies and Dances" (Albany Records).

Both Luxon and Baird appear on the upcoming "Dance on a Moonbeam." So do Dawn Upshaw, an American soprano, and the renowned Frederica von Stade, both of whom appear frequently on the Metropolitan Opera House stage. Bill collaborated with Ms. Upshaw in her Carnegie Hall recital and recorded "Across Your Dreams" (Telarc) with Ms. von Stade.

In the late 80s, Bill Crofut's career took another turn as he joined forces with two area musicians, Chris Brubeck and Joel Brown. The trio performed an eclectic mix of jazz, folk, and classical music all over the world. Chris and Joel are also featured on "Dance on a Moonbeam."

The final component of "Dance on a Moonbeam" was especially important to Bill. "He had a great passion for words and music and he found a marvelous word-music in Shakespeare," Susan says. "So he asked Meryl Streep if she would read certain short Shakespearean passages he had selected to be interspersed with the songs. "It's a real enrichment to the whole thing," Susan says appreciatively. "I think it works beautifully."

Though "Dance on a Moonbeam" is marketed commercially, an unusual licensing agreement between Telarc and the Simple Gifts for Children Fund allows the fund to purchase large quantities of the CD at cost and distribute them through BTCF to non-profits wishing to use the recording for their own fund-raising. "The CD is also available to the artists who participated in this project so that, through their local community foundations, they can make grants to their own favorite children's charities," Susan Crofut explains.

Royalties that come into the Simple Gifts for Children Fund will be used to help grow the endowment. Once the fund reaches $25,000, it will begin by making grants to children's programs within the Foundation's four-county area. The grants will support a full range of projects that support the emotional, social, physical, cultural, and intellectual development of children between birth and 18 years of age.